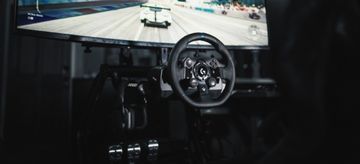 Logitech G923 Review : List of Ratings, Pros and Cons
Date: (dernier test enregistré: )
Check all the 6 reviews find on Mouses Logitech G923, with the 3 ratings, comments, pros & cons from the reviewers.
Theses reviews and tests from Mouses magazines and websites give 3 ratings, we get this average rating to this Logitech product : 3.8/5.
Logitech G923 review : Logitech G923 seems to be very good in the category of Mouses, the reviews are very positive overall for this product and the "Pros" are higher than "Cons".
Logitech G923 ratings
3

Ratings ranked from best to worst, green to good grades, red to bad, Note Moyenne: 3.8/

5
| | | |
| --- | --- | --- |
| | 4.5/5 | GamesRadar |
| | 4/5 | ExpertReviews |
| | 3/5 | Les Numériques |
Preview or review without rating: 4players, Vamers, Fortress Of Solitude
Pros and cons for Logitech G923 List of reviews and ratings
To better compare, we looked for you the advantages and disadvantages of Below and the notes given by specialized sites.
---
More affordable than direct competitors
TrueForce feels insane
G Hub Software is brilliant

TrueForce only compatible with four games
No handbrake input and stick shift not included

TrueForce system adds realism
More progressive brake pedal
Good solid build and general feel

Not many games support TrueForce yet
Starting price a touch high

No "Pros & Cons" find for this reviewer.
No "Pros & Cons" find for this reviewer.
No "Pros & Cons" find for this reviewer.
-
not scored
Fortress Of Solitude
Insane force-feedback levels
Quality build
Realistic pedals (especially the brake)

Nothing new in design
Decades-old mounting system
Pricey
Not enough TrueForce-supported games