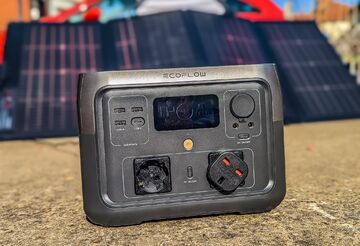 EcoFlow River 2 Review : List of Ratings, Pros and Cons


Date: (Last saved review: ) -

CommentChoisir.fr
Check all the 13 reviews find on Components EcoFlow River 2, with the 12 ratings, comments, pros & cons from the reviewers.
Theses reviews and tests from Components magazines and websites give 12 ratings, we get this average rating to this EcoFlow product : 4.5/5.
EcoFlow River 2 review : With an average rating of 4.5/5, you can buy EcoFlow River 2 with your eyes closed (or almost). The opinions of the testers seem unanimous !
EcoFlow River 2 ratings
12

Ratings ranked from best to worst, green to good grades, red to bad, Average rating: 4.5/

5
| | | |
| --- | --- | --- |
| | 95/100 | Mighty Gadget |
| | 94/100 | TechTest |
| | 92/100 | Basic Tutorials |
| | 4.5/5 | Camera Jabber |
| | 4.5/5 | NetCost |
| | 4.5/5 | PhonAndroid |
| | 8.75/10 | NerdTechy |
| | 4/5 | T3 |
| | 4/5 | ExpertReviews |
| | 8/10 | Journal du Geek |
Preview or review without rating: TechPowerUp
Pros and cons for EcoFlow River 2 List of reviews and ratings
To better compare, we looked for you the advantages and disadvantages of Below and the notes given by specialized sites.
---
Excellent specification for the price
Convenient dimensions for easy transport 

Not all specs are equal to the older RIVER Max

No "Pros & Cons" find for this reviewer.
No "Pros & Cons" find for this reviewer.
Intelligent display
Easy to use
Ultra-fast charging

Capacity is a little on the small side

LiFePO4 battery (lithium iron phosphate, 5x longer life than standard lithium ion)
Stable outputs
Clean sine wave with up to 500 W on the inverter
Weight
Finishing
Fast charging
Compatible with solar panels
Can act as an inverter
Ergonomic and useful mobile application
In-app updates

Wireless charging would be welcome
No audible signal in case of error (overcurrent, empty battery, etc.)
Noisy fan with little or no charge

Manufacturing quality
Efficiency
Wide range of incoming and outgoing sockets
A really useful app
Weight
Reasonable price
USB-C charging possible

Cigarette lighter socket only to charge the River 2
Usefulness of buttons to activate USB and AC sockets
Inability to program a specific time slot to recharge the station
Noisy fan
No resistance to splashing water and dust or sand? officially

Extremely fast AC input for recharging.
Doubles as an uninterruptable power supply.
Rated for 3,000
+ duty cycles.
Portable and very lightweight.
Excellent build quality.

Relatively low capacity but larger versions available. Tends to run warm with higher outputs.

Charges in an hour from AC
Lighter than previous models
USB-C port can charge larger devices like laptops

Only one 3 pin AC output: second is 2 pin
Slower to charge from power sources other than AC power
300 Watt limit on AC outputs means no big fans, portable ovens, or heaters

[4/5]
reviewed at 09/12/2022
- EcoFlow River 2 Portable Power Station Review: Portable Power Station Gets More Portable...
[read the full review on T3]
Packed with connectivity options
Charges in an hour
Solar panel support

Noisy when fans kick in
Discharges slowly if you don?t switch it off

No "Pros & Cons" find for this reviewer.
No "Pros & Cons" find for this reviewer.